Lee Rowley, who opposed shale gas exploration in his Derbyshire constituency, has been become a junior minister at the Department of Business, Energy and Industrial Strategy (BEIS).
He was appointed in the reshuffle, along with Greg Hands, the new energy and climate change minister.
Mr Rowley also becomes a government whip. He was previously a deputy chairman of the Conservative Party.
He tweeted:
A huge privilege to be joining @beisgovuk as Minister for Industry – looking forward to working with @KwasiKwarteng on these priorities in the months ahead https://t.co/OqD8DNS6o6

— Lee Rowley (@Lee4NED) September 17, 2021
https://platform.twitter.com/widgets.js
Mr Rowley has campaigned in and outside Westminster against Ineos plans to drill for shale gas in the village of Marsh Lane. He objected to the scheme at a public inquiry and at a meeting of Derbyshire County Council's planning committee.
In parliament, he set up and chaired the All Party Parliamentary Group on Fracking and spoke in debates against the process.
A year ago, he called for the retention of the moratorium on fracking in England:
"The strength of feeling in Marsh Lane, the strength of feeling in Eckington parish and the strength of feeling in North East Derbyshire about fracking, about how we need to retain this moratorium remains as strong as it was."
The planning permission for Marsh Lane expired last month (16 August 2021) without any work being carried out on the site.
Mr Rowley was elected to North East Derbyshire in 2017, defeating the pro-fracking Labour MP, Natascha Engel, on a second attempt.
Before becoming an MP, he worked in financial services and management consultancy, with posts at Barclays, KPMG, Santander and Co-op Insurance. He was a Conservative member of ~Westminster City Council from 2006-2014.
He was the first member of his family to go to university and has degrees in history from Oxford and Manchester.
Greg Hands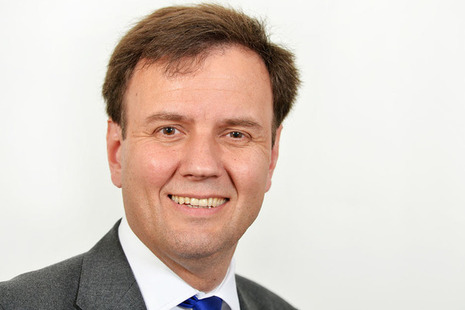 Greg Hands moved to BEIS from international trade.
In a tweet, he described energy, clean growth and climate change as "some of the biggest challenges and opportunities" for the government in the approach to the COP26 climate talks in November.
Trade was a great role, but so is Minister of State at the Department for Business, Energy and Industrial Strategy.

Energy, clean growth and climate change – some of the biggest challenges and opportunities for the Government as we approach #COP26. https://t.co/yLcCY4w28I

— Greg Hands (@GregHands) September 16, 2021
http://charset=utf-8
Yesterday, he responded to a parliamentary question from Labour's Thangam Debbonaire about assessments of the environmental impact of new fossil fuel exploration projects, such as the Cambo oil field of the Shetland islands, in the light of recent climate change reports:
"The development proposal from Cambo is being scrutinised in line with robust regulatory procedures and no decision has yet been taken.

"All previously licensed fields, such as Cambo, are accounted for in terms of projected production and estimated emissions and we are confident that they can be developed, even as we seek to achieve our commitment to net zero by 2050. Domestic production of oil and gas out to 2050 remains below that which we will consume in a Net Zero world, according to the Climate Change Committee's scenarios."
Mr Hands replaced Anne-Marie Trevelyan, who was promoted to secretary of state for international trade.
He has been a minister since October 2011, with posts as a whip, deputy chief whip, chief secretary to the treasury and minister for trade policy.
In 2015, he voted for more extensive conditions for hydraulic fracturing and greater restrictions on fracking in protected areas. But in the same year, he voted against explicitly requiring an environmental permit for hydraulic fracturing and not to ban exploitation of unconventional petroleum for at least 18 months or to require a review on the impact on climate change, environment, economy and health and safety [Source: TheyWorkForYou.com]
He was elected Conservative MP for Hammersmith and Fulham in 2005 and has held the redrawn Chelsea and Fulham constituency since 2010.
He was a local councillor in Fulham from 1998-2006 and spent eight years in London and New York trading and marketing fixed income derivatives.
He has a first-class degree in modern history from Cambridge University.