DrillOrDrop has compiled extracts from some of the 60+ speeches made at the opening day of the World Leaders Summit at COP26 today.
"Words, bla, bla, bla, without action are pointless"
Boris Johnson, UK prime minister
Mr Johnson likened the climate crisis to James Bond, "strapped to doomsday device", trying to work out how to turn it off while a red clock counts down to detonation and the end of human life as we know.
But he said
"the tragedy is that this is not a movie, and the doomsday device is real and the clock is ticking to the furious rhythm of hundreds of billions of pistons and turbines and furnaces and engines with which we are pumping carbon into the air faster and faster- record outputs and quilting the earth in an invisible and suffocating blanket of CO2."
He warned that 2 degrees of warming risked jeopardising food supply for hundreds of millions
3 degrees would result in twice as many wildfires and cyclones, five times as many droughts and 36 times as many heatwaves
"4 degrees and we say goodbye to whole cities – Miami, Alexandria, Shanghai – all lost beneath the waves"
He said "It's one minute to midnight on that doomsday clock and we need to act now."
"When it comes to tackling climate change, words, blah, blah, blah, without action, without deeds, are absolutely pointless and our record on deeds so far is not exactly stellar.

"This is about all of us taking the concrete steps that will actually help the countries around the world that need it most."
Referring to criticism that rich nations had failed to meet pledges of $100bn of private finance each year, Mr Johnson said:
"That deadline has come and gone and it will be 2023 before we hit that target, so that was one of our very first post-Paris tests and we flunked it.

"Of course, getting there eventually is better than not getting there at all but if we are late again with the rest of the 1.5 degree challenge, then we will be far too late."

"We need to make this COP26 the moment we get real about climate change."
He said COP26 could not be the end of the story of climate change.
"We might not feel like James Bond, or look like James Bond, but COP26 must be the start of defusing that bomb. Yes, it is going to be hard, but yes, we can do it."
He announced:
guarantees to the World Bank and the African Development Bank to provide £2.2bn ($3bn) for investments in climate-related projects in India
£3bn commitment of climate financing for green growth over the next five years
£210m for transformational green projects in developing countries, such as Vietnam, Burkino Faso, Pakistan, Nepal and Chad.
"Turn tragedy into triumph"
Sir David Attenborough, naturalist
Sir David Attenborough urged world leaders to be "motivated by hope rather than fear."
"As you spend the next two weeks debating, negotiating, persuading and compromising … it is easy to forget that ultimately the emergency of climate comes down to a single number t- the concentration of carbon in our atmosphere. Is this how our story is due to end, a tale of the smartest species doomed by that all-to human characteristic the failing to see the bigger picture in pursuit of short-term goals.
He urged them to "rewrite our story, to turn this tragedy into a triumph."
We understand the problem, he said. We know how to stop the number rising and put it in reverse.
Nature was a key ally. Wherever the wild was restored, it would recapture carbon, he said.
"We must use the opportunity to create a more equal world and our motivation should not be fear but hope."
He said people alive now will look at the conference and ask one thing, had the number of carbon concentration stopped rising and start to drop as a result of commitments made here.
The answer can be yes, he said.
"If working apart we are a force powerful to destabilise our planet, surely working together we are powerful enough to save it,"
But working together, he said, we are powerful enough to save it.
"In my lifetime I've witnessed a terrible decline. In yours, you could and should witness a wonderful recovery.

"That desperate hope, is why the world is looking to you and why you are here"
"We are digging our own graves"
Antonio Guterres, UN Secretary General
"We face a stark choice. Either we stop it – or it stops us", Mr Guterres said as he greeted leaders at the COP26 summit.
"It's time to say: enough. Enough of brutalising biodiversity. Enough of killing ourselves with carbon. treating nature like a toilet, burning, and drilling and mining our way deeper. We are digging our own graves".
Mr Guterres said:
"Recent climate action announcements might give the impression that we are on track to turn things around. This is an illusion

"We face a moment of truth. We are fast approaching tipping points that will trigger escalating feedback loops of global heating"
He urged delegates:
"Choose ambition. Choose solidarity. Choose to safeguard our future and save humanity,"
"Challenge of our lifetime"
Joe Biden, US president
"My friends, if we are to recognise a better and more hopeful future, then every nation has to do its part with ambitious targets to keep 1.5 degrees in reach and specific plans on how to get there, especially the major economies. It's imperative that we support developing nations, so they can be our partners in this effort.

"Right now, we're still falling short. There's no more time to hang back or sit on the fence or argue amongst ourselves.

"This is the challenge of our collective lifetime, an existential threat to human existence as we know it, and every day we delay, the cost of inaction increases.

"So let this be the moment that we answer history's call, here in Glasgow. Let this be the start of a decade of transformative action that preserves our planet and raises the quality of life for people everywhere.

"We can do this. We just have to make a choice to do it. So let's get to work."
"Last chance saloon"
Prince Charles
Prince Charles described COP26 as a "last chance saloon". He said:
"We have to put ourselves on what might be called a war-like footing.

"We need a vast military-style campaign to marshal the strength of the global private sector, with trillions at its disposal."
He called for "fine words" to be translated into "still finer actions".
"It is surely time to set aside our differences and grasp this unique opportunity to launch a substantial green recovery by putting the global economy on a confident, sustainable trajectory and thus save our planet."
"Immoral and unjust"
Mia Mottley, prime minister of Barbados
Mia Mottley said Barbados had come to Glasgow with global ambition to save its people and the planet.
But she said there were gaps in the commitments made by the world.
Without greater promises of reduced carbon emissions the world would be on a pathway to 2.7 degrees. Even with bigger pledges, the planet was still likely to get to 2 degrees, she said.
"These commitments made by some are based on technologies yet to be developed. And this is at best reckless, at worst dangerous."
On finance, she said the promises were 20 billion dollars short of the 100 billion and this commitment even then might only be met in 2023.
On adaptation, adaptation finance remained at only 25%, not the 50:50 split that had been promised. Failure to provide the critical finance was measured in lives and livelihoods, she said.
"This is immoral and it is unjust."
Net carbon by 2070
Narendra Modi, Prime Minster of India
Mr Modi committed India to net zero carbon emissions by 2070.
In a set of five "elixirs" for climate, Mr Modi said India would also:
Increase non-fossil energy capacity to 500GW by 2030
Get half of its energy from renewable resources by 2030
Reduce projected carbon emissions by one billion tonnes between now and 2030
Reduce carbon intensity of its economy by 45%
Mr Modi said
"India is the only country that is delivering in 'letter and spirit' commitments on tackling climate change under the Paris accord."
It ranked fourth in the world on renewable capacity, he said, and non-fossil fuel energy was now 40% of its total.
"Technology is the answer"
Scott Morrison, prime minister of Australia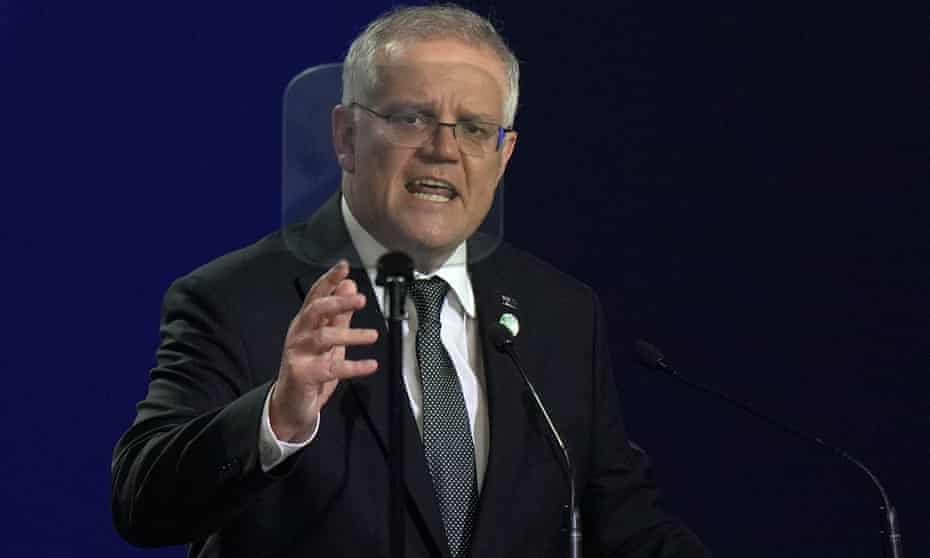 Mr Morrison said the Australian way to meeting net zero was by technical solutions adopted at scale.
"Technology will have the answers to a decarbonised economy, particularly over time".
He said a technical solution would not deny livelihoods or better quality of life of people, particularly in the developing world.
He pledged:
$2 billion to be spent over five years on regional programmes
Australian emissions would fall by 35$ by 2030
Mr Morrison said Australia had installed renewables at eight times faster than the global rate and three times faster than some advanced economies. It had already reduced emission by 20% since 2005. But at the same time, the economy had grown by 45%. This proved, he said:
"economic growth is not at odds with emissions reductions"
"We need an alternative to capitalism"
Luis Arce Catacora, president of Bolivia
"Countries are very far from the targets which need to be met for us to be able to tackle the world's climate crisis. The capitalistic global system based on unfettered consumerism and the irrational exploitation of the planet cannot come up with a solution to solve the climate crisis unless there is a strong paradigm shift in the economic and social systems of the world's developed countries.

"These countries are just biding their time without facing any sense of responsibility towards humanity or towards mother earth, and their credibility is at peril.

"Developed countries must come up with reductions to meet the temperature rise targets agreed in Paris. They must also meet their responsibilities to transfer financial resources and the means to implement them to developing countries.

"We must be aware that developed countries are promoting a new colonisation process which we could call the new carbon colonialism. They are attempting to impose their own rules of the game upon us

"We will not solve the climate crisis with more green capitalism and global carbon markets

"We need to change the civilisation model we have and head towards an alternative to capitalism which is the concept of living properly together in harmony with mother earth."
"Gasping for survival"
Wavel John Charles Ramkalawan, president of Seychelles
"Our people want a better life. And this starts be being alive.

Seychelles is a victim. So too are other small-island developing states. We suffer the effects and consequences of industrialisation and climate change.

"We are already gasping for survival.

"When I hear the expression "rising sea level", I am scared ,because it brings home the awareness that my country's granitic [granite} islands will lose all economic activity happening around the coast and I realise that the beautiful archipelago of 115 islands that we are today may be reduced to less than 50 as our coral islands disappear.

"Fellow leaders, from the Seychelles our message is simple – we have to act immediately. The environment partnership to save our planet must happen here in Glasgow in 2021.

"Let CoP 26 be the determining point. Let the change be a real one. Let the paradigm shift happen.

"May the industrialised nations understand that they cannot continue polluting without reserve. May those who exploit without thinking of tomorrow, stop. May the corrupt poachers of our planet change their ways, and may we realise that in this battle to save our planet we are not in the proverbial same boat, but we are indeed in the same boat, big, small, rich, or poor."
"Role of Congo is vital in implementing climate goals"
Denis Sassou Nguesso, president of Congo
"The Republic of Congo is situated at the heart of the Congo basin, a vast expanse of forest and peat bogs, which today is the number one net carbon sink in the world, following the deforestation in the Amazon. The peat bogs of the central basin alone store 31 billion tons of Carbon, 3 years of global emissions.

"The place that the Congo basin holds in implementing the goals of the Paris agreement is absolutely vital.

"The Congo Basin provides the world with incalculable eco-system services, but what does it get in return? Unfortunately, very little.

"The determination of the Republic of Congo to preserve this vast area is absolute.

"However, this commitment goes hand in hand with the equally absolute will to pursue our economic and social development for the well-being of our population.

"These two goals are not exclusive, they are complementary.

"Demanding that we slow down our development so that the planet can breathe easier would be profoundly unjust and even immoral.

"By taking the decision to protect and conserve the Congo basin for the good of humanity, we have been able to shoulder our responsibilities. It is now up to everyone to shoulder theirs."
"Developed countries bear a special responsibility"
Angela Merkel, German chancellor
Mrs Merkel, the outgoing chancellor, urged other countries to put a price on carbon emissions, as the EU does.
"We can ensure that our industry, our business, can develop the best technologies and ways to achieve climate neutrality."
She said the world was not where it needed to be.
"We know that the developed countries bear a special responsibility. This is especially true for the Federal Republic of Germany. This is why we have, again, increased our climate NDCs (nationally determined commitments). By 2030, we want to cut emissions by 65% from 1990 levels and we want to be climate neutral by 2045."
Mrs Merkel said Germany would increase its financial contribution to 6 billion euros per year by 2025.
For the credibility of industrialised countries, she said they should provide the finance they promised.
"Put a price on carbon"
Ursula von der Leyen, president of the European Commission
Ms von der Leyen urged countries to put a price on carbon dioxide emissions.
"We need to agree to a robust framework of rules, for example, to make global carbon markets a reality. Put a price on carbon, nature cannot pay that price anymore".
"We have to give strong commitments to reduce emissions by 2030. Net zero by 2050 is good, but it's not enough," she said.
No new commitments
President Xi Jinping of China
In a written statement to COP26, President Xi called on developed countries to help developing countries do better on tackling climate change.
"The G20 members should take the lead in promoting and applying advanced technologies, and developed countries should also earnestly fulfil their commitments to providing funds for developing countries".
He offered no new commitments to the conference.
"China will continue to prioritize ecological conservation and pursue a green and low-carbon path to development.

"I hope all parties will take stronger actions to jointly tackle the climate challenge and protect the planet, the shared home for us all."
Last week, China committed to release concrete plans for reaching a peak in emissions in 2030 and achieving carbon neutrality by 2060.
Additional reporting by Paul Seaman