September 2018 is expected to see the first UK high volume hydraulic fracturing for seven years when Cuadrilla fracks its first horizontal well in Lancashire. Also this month decisions are due on oil and shale gas sites and protest injunctions.
You can keep up with the news here with DrillOrDrop's digest of headlines about fracking, shale and onshore oil and gas, updated daily.
Click here for headlines from previous months
Top headlines this month:
Europa oil & Gas pulls out of Leith Hill oil site as Environment Secretary refuses to extend lease
Ineos plans for Woodsetts in South Yorkshire refused by Rotherham councillors for second time
High Court curtails wide-ranging UKOG protest injunction – judge refuses leave to appeal
Angus Energy and IGas granted injunctions
UK councils invest £9bn+ of pension funds in fracking companies
West Sussex County Council grants UKOG more time for oil exploration at Broadford Bridge
Cuadrilla announces fracking consent for second shale gas well as Preston New Road.
---
21 September 2018
Cheshire anti-fracking groups team up to fight Ellesmere Port appeal. DrillOrDrop report
Three-counties cycle ride tours shale gas sites. DrillOrDrop report, Worksop Guardian (19/9/2018)
20 September 2018
Who's saying what on government plans to fast-track fracking? Use the DrillOrDrop tracker to find where your council and MP stand.
Nottinghamshire County Council votes unanimously on a motion opposing government proposals to change planning rules for shale gas. Find out where your council stands with the DrillOrDrop tracker
MPs call for evidence on government plans to speed up fracking decisions. DrillOrDrop report
Fracking campaigners are not "domestic extremists" – Nicola Sturgeon. DrillOrDrop report from First Minister's Questions, ITV, The National, The Herald, The Ferret, Energy Voice
IGas confirms delivery of conductor rig to Springs Road, Misson site.
MEP meets university seismologist about Surrey earthquakes. Keith Taylor, Green Party MEP for south east England  reports that he met Dr Stephen Hicks, of Southampton University. Dr Thornton said more work was needed to establish the cause of the seismic activity which the area experienced between April and August 2018.
Free the Frackers. The Times leader says "local opposition is hindering a project that is essential to the nation's energy security". The article accuses "a couple of dozen Conservative members of parliament" of being the latest hurdle by opposing government proposals to change the planning rules for shale gas development.
Well drilling in Sussex must be properly regulated. Nick Herbert MP, writing in the Littlehampton Gazette, explains his opposition to the government proposals on permitted development for non-fracking shale gas schemes.
EU must end new petrol and diesel car sales by 2030 to meet climate targets – report. The Guardian reports that analysis by the German Aerospace Centre says new petrol and diesel car sales must be phased out in Europe if the auto sector is to play its part in holding global warming to the Paris agreement goal of 1.5C. Forecourt plug-in hybrids will also have to disappear by 2035 by the latest.
A second fracking site in Lancashire would be "costly" to county's police, says councillor. The Clitheroe Advertiser reports comments by Cllr Liz Oades, Lancashire county councillor for Fylde East and a member of the county's Police and Crime Panel. She says:
"If we have another site, then how we are going to police it without help from government, I don't know. It could be extremely costly for Lancashire."
19 September 2018
Cuadrilla announces fracking consent for second shale gas well as Preston New Road. DrillOrDrop report, Energy Voice, ITV, Rigzone, EcoWatch (20/9/2018), The Ecologist (20/9/2018)
Picture post: North Yorkshire village marks a year of no fracking. DrillOrDrop report
Shell and Exxon's secret 1980s climate change warnings. The Guardian reports on newly found documents from the 1980s which show that fossil fuel companies privately predicted the global damage that would be cause by their products.
Anti-fracking demonstrators take to County Hall in Newport. IWRadio reports demonstrated outside Isle of Wight council about the "real likelihood" of fracking coming to the Island of Wight. They also protested against government proposals to change the planning rules for shale gas. Isle of Wight County Press, Isle of Wight Observer
Liz Truss slams regulations in speech to US think-tank backing environmental roll-back after Brexit. The treasury minister told the right-wing Cato Institute that "a thicket of regulation and control" is holding back business. Greenpeace's Unearthed website reports she called for a "new Anglo-American dream".
18 September 2018
"City heavyweights", Keith Cohrane and Lord Gadhia, resign from fracking company, Third Energy. DrillOrDrop report, The Guardian, BBC News (19/9/2018), Gazette and Herald (19/9/2018), The Canary (19/9/2018), The Times (19/9/2018)
No fracking this year on controversial site as deadline passes for test survey. The Yorkshire Post reports that Third Energy has confirmed it has no current plans to return to Kirby Misperton. A three-month mandatory groundwater survey would have to have started by now for fracking to be carried out in 2018.
Balcombe villagers protest against oil tests. DrillOrDrop report, Mid Sussex Times
Fracking plans spark Conservative rebellion threat. The FT reports about 20 Conservative MPs are threatening to rebel against government proposals to allow shale gas exploration to go ahead without planning permission. The Times (20/9/2018), ENDS report (18/9/2018), INews (18/9/2018), The Independent (19/9/2018)
County council opposes shale gas drilling changes. Lincolnshire Reporter says Lincolnshire County Council's environment and economic scrutiny panel endorsed a response opposing government proposals to make non-fracking shale gas plans permitted development. More details here
Keep shale gas applications a local matter, says council Labour group. West Bridgford Wire reports on a motion to Nottinghamshire County Council to oppose government plans to make non-shale gas proposals permitted development. Eastwood Advertiser (19/9/2018)
Otley councillors oppose national fracking rules plan. The Telegraph and Argus reports Otley Town Council unanimously opposed proposals change the planning rules for shale gas developments.
Gloucestershire council fracking investments under review. Stroud News and Journal reports that council pension investments will be subject to new ethical and environmental guidelines, according to a report from the Department of Work and Pensions.
How slick water and black shale in fracking combine to produce radioactive waste. PhysOrg reports on a study by Dartmouth College, which concluded that radioactivity in fracking wastewater comes from the interaction between a chemical slurry and ancient shale during the hydraulic fracturing process.
Trump just made it easier for frackers to leak methane while drilling on federal land. The New Yorker's Daily Intelligencer reports on how the Trump administration has removed regulations introduced by President Obama to minimise methane emissions.
17 September 2018
Investigation: Beauty spot oil well releases hundreds of tonnes of methane into the atmosphere. DrillOrDrop report

IGas responds to community anger over injunction. DrillOrDrop report

Campaigners anger over lighting at fracking site. The Blackpool Gazette reports concern among councillors and anti-fracking campaigners about plans for lighting at the Preston New Road fracking site.
16 September 2018
What's happening this week? 17-23 September. DrillOrDrop diary of events in the coming seven days.
Labour is divided over its proposed fracking ban – Cuadrilla chief. The Guardian reports accusations by Francis Egan, of Cuadrilla, that Labour is divided over the proposed fracking and ban and is guilty of unnecessarily politicising the search for shale gas.
Fears Shannon LNG project could pave way for fracking in Ireland. The Limerick Leader reports Safety Before LNG fears a multi-million euro liquid natural gas project in West Limerick could open up the Shannon Estuary to fracking. The group has sought and secured an injunction against a decision to extend the permission given to Shannon LNG for another decade.
15 September 2018
Angus Energy granted High Court injunction for Balcombe oil site. DrillOrDrop report
Weekend Long Read: How one community checked up on fracking. DrillOrDrop guest post
Why city leaders think fracking could be 'catastrophic' for Bath. SomersetLive reports Bath and North East Somerset Council voted to retain control of planning permission for fracking under the city, after a Labour motion won cross–party support.
14 September 2018
Lancashire Police use drones over Cuadrilla's Preston New Road fracking site. DrillOrDrop report
Campaigners call for Coventry council action against investment in fossil fuels. The Coventry Observer reports that Divest West Midlands Pension Fund has called on Coventry City Council to take action against investment in fossil fuels.
13 September 2018
Date set for Ellesmere Port public inquiry. DrillOrDrop report
New start date for Balcombe flow test. DrillOrDrop update on expected start date for flow testing at Angus Energy well.
Anti-fracking charges dropped. The York Press reports the Crown Prosecution Service has dropped charges against Eddie Thornton, Matthew Trevelyan and Angela Ditchfield. All three denied charges related to protests outside Third Energy's Kirby Misperton fracking site.
York Conservative group objects to Government plans to speed up fracking planning process. The York Press reports that Conservatives councillors in York have described the government's plans as "wholly inappropriate" and predicted they may "damage residents' confidence" in the planning system. Minster FM
Groningen Earthquakes: Dutch make gas extraction the subject of a political and legal battle. An English translation of an article in the Dutch Financial Times reports on a growing campaign to stop gas extraction in parts of the Netherlands.
12 September 2018
Fracking opposition is core Labour policy, shadow chancellor tells Westminster rally. Pictures and speeches from 100 Women gathering. DrillOrDrop report, The Ecologist, ITV, The Canary, 2BR
Government warned it could lose vote over changes to shale gas planning rules. DrillOrDrop report on Westminster Hall debate. Blackpool Gazette
Prime Minister quizzed over support for local decision-making. DrillOrDrop report on Prime Minister's Questions. BBC News
Rathlin Energy seeks three more years of planning consent at the West Newton-A exploratory gas for the second time. DrillOrDrop report
Flow test at Angus Energy Balcombe oil well expected to start next week. DrillOrDrop report
Bury Council votes against fast-track fracking. Members of Bury Council voted unanimously against government proposals to change the planning rules for shale gas developments. Bury Times (13/9/2018), Manchester Evening News
Anti-fracking protesters found guilty at trial. The York Press reports  Lyn Oxberry (65) and Brian Tudor (72) were found guilty of obstructing Habton Road, Kirby Misperton on 19 October 2017. They denied the offence and were given 12-month conditional discharges.
Cases dismissed. The Blackpool Gazette reports that a man accused of getting on top of a lorry and obstructing the highway outside Cuadrilla's shale gas site at Preston new Road has had his cases dismissed.
Campaigners say 'No' to oil drilling in heart of Wolds. The Horncastle News reports campaigners against oil drilling in the Lincolnshire Wolds have raised £10,000 to mount a legal challenge to permission granted for a site at Biscathorpe. 
IGas interim results for the six months to 30 June 2018. Link
Shale gas exploitation resumes in the UK. Le Monde reports on Cuadrilla's fracking plans at Preston New Road and the campaign against it.
11 September 2018
Breaking: West Sussex councillors extend planning permission for UKOG's Broadford Bridge oil exploration site. DrillOrDrop live news updates, West Sussex County Times (12/9/2018), Spirit FM (13/9/2018)
Pictures: Eviction of protest camp at Horse Hill oil site. DrillOrDrop report, SurreyLive (13/9/2018)
Pictures: Europa begins to clear Leith Hill. DrillOrDrop report
Cross-party call on emissions can put UK 'at front for investment'. Energy Voice reports that 132 MPs and 51 peers have signed a letter organised by Conservative MP, Simon Clarke, urging the Prime Minister to strengthen the UK's long-term climate target. They say a tough target than the current emission reductions of 80% by 2050, would put the country "at the forefront of the race for investment in clean industries.
Ineos lets contract for Grangemouth cracker expansion. Oil and Gas Journal reports that announcement by Ineos that a German company will build a tenth furnace at the Kinneil Gas cracker at its Grangemouth petrochemical complex. The £60m expansion will ensure Ineos can continue to meet the growing demand for its products, the company said. BBC News, Energy Voice
TUC votes for motion on fracking moratorium. Energy Voice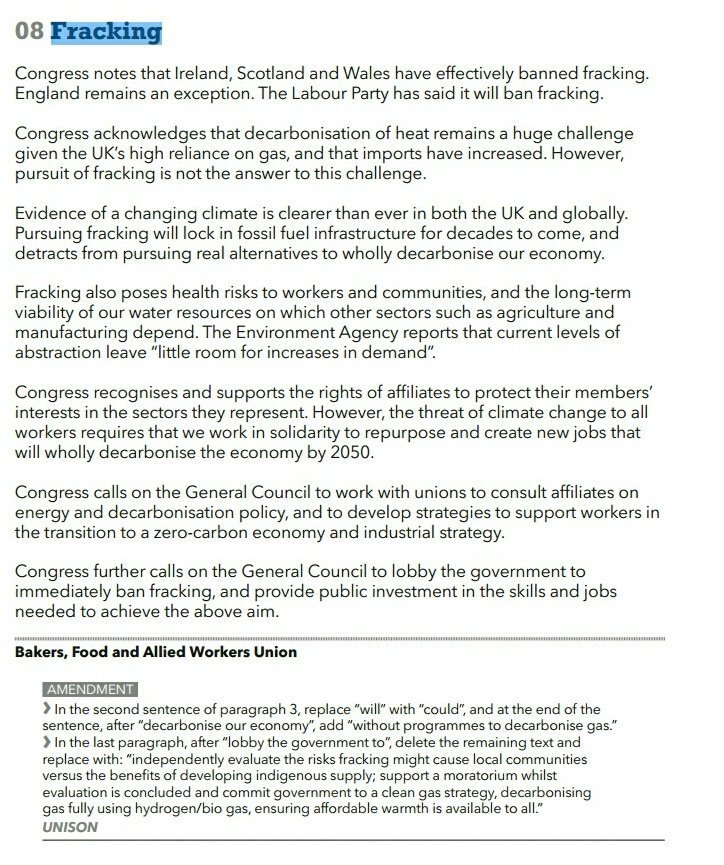 Shale offers a huge opportunity for the county. Lancashire Business Review reports potential jobs in the shale gas industry based on EY forecasts.
Town hall chiefs to debate urgent fracking motion after fears raised over government plans. This is Lancashire and Bury Times report Bury's Labour group is urging the government to withdraw proposals to change the planning rules for shale gas developments.
Shale gas drilling changes would reduce confidence. The Lincolnshire Reporter says Lincolnshire County Council is expected to reject government proposals to change the planning rules on shale gas developments
10 September 2018
Counting the cost of oil plans at Leith Hill. DrillOrDrop investigation into the cost of Europa's attempt to drill at Leith Hill on the company, community and decision-makers.
Horse Hill Portland oil test "exceeds expectations" – long-term production application expected soon, says UKOG. DrillOrDrop report, Shares Magazine, Proactive Investors, Stock Market Wire
Cuadrilla spends all Centrica's funds. The Times reports that Cuadrilla and its partners have "burnt through at least £60m in their Lancashire shale gas operations before evening beginning fracking. Cuadrilla, backed by private equity, has recently asked shareholders for a further $6 million after exhausting funds provided under a deal with Centrica, the owner of British Gas.
Why are counter terrorism police still spying on the anti-fracking movement. Spinwatch reports that counter terrorism police units in the Midlands and Scotland are keeping the anti-fracking movement under surveillance. The National and The Ferret (16/9/2018)
Former Green Party leader speaks at anti-fracking demonstration in Retford. Lincolnshire Live reports that Natalie Bennett called fracking a "blight on our country that needs to be stopped" during a visit to the Tinker Lane shale gas site at Barnby Moor.
Parliamentary Early Day Motion on fracking and local communities tabled by John Mann MP. Link 
Natural Gas pipeline blast prompts evacuation. StateImpact.npr.org reports on an explosion at an Energy Transfer Partners pipeline in Pennsylvania which destroyed a home, two garages, a barn and several vehicles. No one was hurt.
9 September 2018
What's happening this week? 10-16 September 2018. DrillOrDrop events diary for the coming week
Countryfile: Tom Heap grills fracking CEO as he is refused entry to site. The Express reports that the BBC's Countryfile was refused access to Cuadrilla's shale gas site three days before filming.
First shale gas sold with "responsible" branding. The FT reports on the first gas sold with a certificate attesting to the conditions under which it is produced. The paper says the certificate could help US exporters win markets in European countries where there is widespread suspicion of the use of fracking to extract gas from shale.
Rise for Climate: Protesters call out council on climate change. The Oxford Mail reports on a protest in Oxford's Radcliffe Square, part of a worldwide call for climate change action. More than 100 people gathered to urge the county council to drop its pension fund investment in fossil fuels.
Correction needed. Cllr Paul Andrews, writing to the Gazette and Herald, says he wishes to correct what he describes as "mistaken statements" by fracking supporter, Lorraine Allanson. He says there could be 50 drill pads across the Vale of Pickering, not 10 or 12 as Ms Allanson suggested in the paper.
Fracking in Somerset: What you need to know about licences, the planning process and how to have your say. SomersetLive reports on the government consultation on changes to the planning rules for shale gas.
8 September 2018
Westminster rally and debate urge government to let communities decide on fracking. DrillOrDrop report, Rotherham Online (10/9/2018), Lancashire Evening Post (11/9/2018), Worcester News (10/9/2018)
7 September 2018
Breaking: Rotherham council refuses Ineos shale gas plans for Woodsetts for second time – Live news updates. DrillOrDrop report, RothBiz (10/9/2018)
Woodsetts villages celebrate second refusal of Ineos shale gas plans DrillOrDrop report, Rotherham Advertiser, Sheffield Star
Anti-frackng campaigners remain steadfast one year on as Cuadrilla defends its plans to drill on the site. The Blackpool Gazette reports on the one year anniversary of a curb-side protest camp outside Cuadrilla's Preston New Road shale gas site.
Campaigners opposing Shannon LNG plant gear up. The Limerick Leader reports on comments by Futureproof Clare on plans to develop the Shannon LNG plant. The group says the scheme will lock the county into using "dirty fracked gas from the US" and encourage "runaway climate change".
Scottish Government  encourages plastics production. Tom Baxter, in The Chemical Engineer says he is concerned about the use of "click-bait headlines" when the associated narrative does not provide a balanced view.
6 September 2018
Ryedale Tories reject government changes to fracking planning rules. DrillOrDrop report, Gazette and Herald (12/9/2018)
Surrey Hills: how the environmental battle was won. Keith Taylor MEP, writing in Left Foot Forward,  says protest and public pressure worked in the campaign against oil drilling at Leith Hill.
Cases dropped. The Blackpool Gazette reports that obstruction court cases against anti-fracking campaigners, Katrina Lawrie and Thomas Walsh, have been dropped by prosecutors
5 September 2018
IGas granted injunction for exploration sites at Misson, Tinker Lane and Ellesmere Port. DrillOrDrop report
Balcombe prepares for flow test of oil well. DrillOrDrop report on arrangements for community liaison group, permit transfer and fundraising. Balcombe Parish Council post
The Tories are pushing through fracking. Labour will ban. Shadow climate change secretary, Barry Gardiner, writing in the New Stateman, calls on the energy minister, Claire Perry, to visit Lancashire shale gas sites.
I will miss everyone, even the defendants – Blackpool's first judge has retired. District Judge Jeff Brailsford, who became known for hearing anti-fracking cases at Blackpool Magistrates Court has retired, the Blackpool Gazette reports.
4 September 2018
Breaking: Oil companies pull out of Leith Hill drilling site in Surrey. DrillOrDrop report, The Guardian, Proactive Investors, Oil Voice, BBC News, Eagle Radio (5/9/2018), Surrey Live
High Court extends for 14 hours the Europa Oil & Gas protest injunction for its exploration site at Bury Hill Wood, near Leith Hill in Surrey. DrillOrDrop report
Environment Secretary, Michael Gove, blocks oil drilling in the Surrey Hills to protect ancient woodland. DrillOrDrop report
Government faces second legal challenge over new planning rules on fracking and onshore oil and gas. DrillOrDrop report, Guardian, The Times (14/9/2018)
Eviction attempted at anti-fracking camp near Cuadrilla's shale gas site. DrillorDrop report
Deputy judge in the UKOG injunction case refuses leave to appeal to challenges. Update to DrillOrDrop report
People have been frightened into silence – campaigners warn of threat to rights from oil drilling injunction. The Ecologist reports on the challenge by six women to a wide-ranging injunction against protests at oil sites in Surrey and Sussex.
Green Party leadership announcement. The Green Party announces that Jonathan Bartley and Sian Berry have been appointed its new leaders. Amelia Womack was re-elected for a third term as deputy. The Ecologist
Why are councils investing in the fracking industry they oppose? Matthew Brown, leader of Preston City Council, writing in The Guardian, says local authorities should be investing in a greener future – not using pensions to fund the very companies they are battling.
YP Letters: Fracking's okay – if you live hundreds of miles away. Jarvis Browning, of York, and Robert Bottamley, of Hedon, writing to the Yorkshire Post, respond to a letter by Michael Barker (see 1 September 2018). Mr Bottamley says:
"Many thanks for conveying Michael Baker's reassurances that concerns over fracking are "groundless". They bring to mind the man who, having leapt from the top of a skyscraper, shouted as he passed each window on the way down, "So far, so good!"
3 September 2018
Breaking: High Court curtails wide-ranging UKOG injunction against oil site protests. DrillOrDrop report, Telegraph, Daily Mail, BBC News, Surrey Live, Upstream online, Shropshire Star, Shares Magazine, Midhurst and Petworth Observer (5/9/2018), Brighton Argus (5/9/2018)
Breaking: Campaigners seek appeal against UKOG injunction. DrillOrDrop report
UK councils invest £9bn of pension funds in fracking companies – new research. DrillOrDrop report on data on investment by UK council pension funds. FT, DeSmogUK, BBC, Public Sector Executive, Lancashire Guardian (6/9/2018), Somerset Live 7/9/2018), Ilford Reforder (7/9/2018), Wales Online (6/9/2018), Bolton News (6/9/2018), Get Surrey (10/9/2018), Southwark News (10/9/2018), Stroud News and Journal (12/9/2018), Punchline Gloucester (12/9/2018)
Fracking is back in England – and only the Tories want it. The UK's former diplomatic envoy on climate change, John Ashton, writing in The Guardian, says the government doesn't care that Lancastrians protested against fracking, the council rejected it and the health impacts are shocking. he says:
"The Conservatives are said to be concerned about the party's inability to attract young people. But it is the young who will pay the highest price for the mistakes we make now. If I could be young again, I would not for one moment consider supporting a party that treated my future with such brazen contempt."
Change of adviser. Angus Energy tells investors it has appointed Stockdale Securities Ltd as its nominated adviser and broker.
2 September 2018
What's happening this week? 3-9 September 2018. DrillOrDrop events listing for the coming seven days
1 September 2018
West Sussex planning officers back oil company's bid for more time at Broadford Bridge exploration site. DrillOrDrop report
Drilling diary – September 2018 and beyond. DrillOrDrop report
Environmental groups unite to send a clear message to the government. The Canary reports that environmental groups have signed an open letter calling on the government to reject plans for a new gas power station at Selby in North Yorkshire. If approved it would be the largest in the UK. According to the letter, it would increase the need for further fracking in the UK and abroad.
YP Letters: There's no reason to be fearful about the future of fracking. Michael Baker, from Aberdeen, writing to the Yorkshire Post, tells the paper "for almost 10 years now, I have been amazed by the flurry of groundless concerns raised by so many [about fracking]."